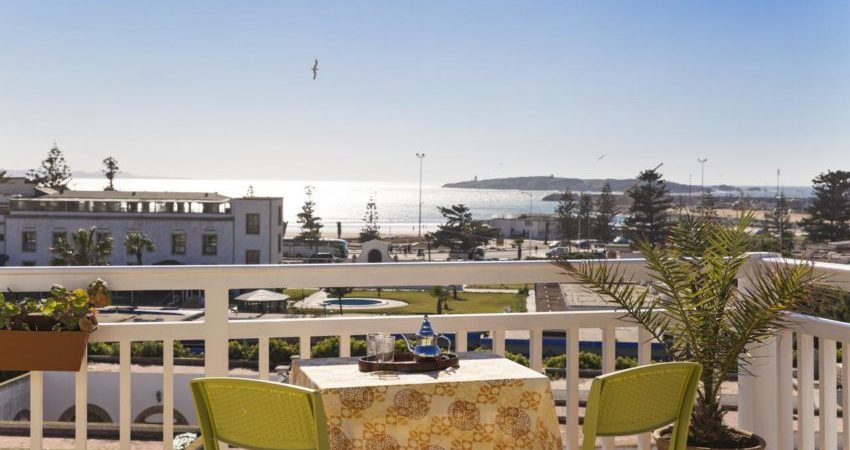 The Riad
A few steps from souks and Bab Marrakech, the main gate of Essaouira, Chems Bleu is nested at the bottom of a small impasse in arcades, in the street of Agadir; it is one of the most sought-after streets in the medina as it is protected from prevailing winds and humidity thanks to its southwest location.
As tradition dictates, the heavy door of our guesthouse opens onto a side entrance that preserves the privacy of its occupants. Coming out of the dark alley, you will be dazzled by the light that fills the garden and charmed by the sober beauty of the place. The murmur of the fountain will accompany you throughout your stay.
The riad is organized on four U-shaped levels around the patio, the wall against the rampart forming the fourth side. On the ground floor, you will find the living room, the dining room, a kitchen and a toilet. The dining room has a fireplace and breakfast is served on the terrace.
The two buildings are connected, at first and second levels, by two large corridors that invite to relaxation. The second offers a view of the beach and the port. On each side of these two long terraces, there is a double bed room, with a bathroom and a toilet. Those of the first, the red and blue include in addition, a small adjoining room, upstairs, for one person. All have two large French windows opening onto the patio with exuberant vegetation. The two rooms of the second, the green and the red, because they are above the crenels of the ramparts, have a third window offering a wonderful view.
On the third floor, on the East building, a fifth bedroom, the deck enjoys a comfortable private terrace, and on the West building, a panoramic terrace will delight contemplatives and solarium enthusiasts. This is where the breakfasts are served.
At the bottom of the nearby impasse, just above the rampart, our apartment is available from April to October: enjoying the same view, it is also very sunny, very quiet, and pleasantly furnished: on the 1st level, two double bedrooms, each with a bathroom and a toilet and the second, a large living room (with fireplace, TV ….) opening onto a terrace, a kitchen and a toilet.
Book your Stay +212 661 08 62 43
---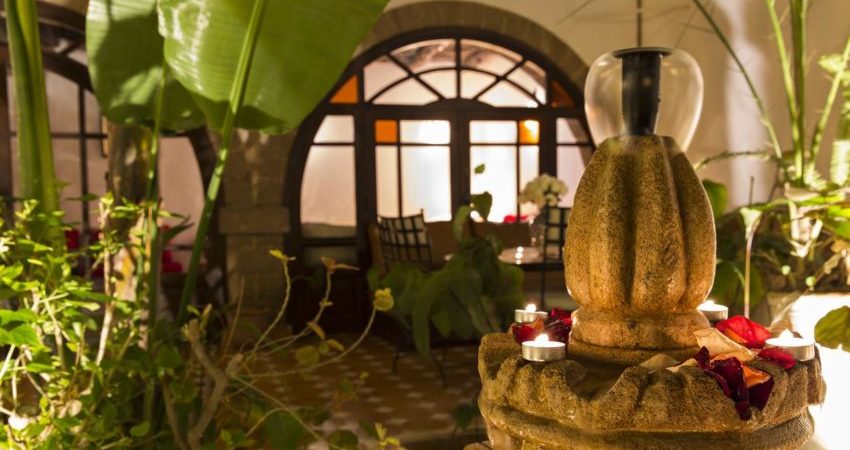 The Patio
Around a fountain, in the tradition of an Andalusian patio, an exuberant and flowery vegetation thrives and rises to the sky, welcoming to the birds who come to splash in the water of the fountain.
In the living room, you can enjoy a library, a television and unlimited WIFI.
The dining room, with a fireplace, welcomes guests when the weather does not allow for breakfasts to be served on the terrace. We can also, upon request, serve meals there for families with young children for example…